Héctor Figueroa is one of our nation's most prominent Latino labor leaders and a 'champion for working people, minorities, the poor, the voiceless,' said union 32BJ.
He died of a heart attack in New York Thursday night.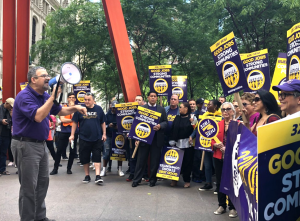 Figueroa was 57 years old and has been credited with revitalizing the country's largest union of service workers - Janitors, security officers, airport workers and more.
The loss is devastating.
"In his many years of service to our union, to the labor movement, and to our communities, he consistently joined together a clear vision about the empowerment of working people with compassion and energy," the statement from SEIU said.
Figueroa is survived by his family-wife, Deirdre, and children, Eric and Elena.
Read more at NEWS - Prominent Latino labor leader Héctor Figueroa has died at 57