You could say keeping people safe runs through Tony Peterson's blood. His father was a police officer. One brother was a Vietnam Veteran, another a Federal Officer. And his sister-in-law works in law enforcement as well.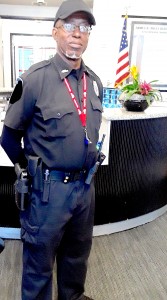 Peterson grew up in Chicago and before he followed his family into the protection services, he spent his youth as a successful touring musician, even opening for BB King--who Peterson says is "one of the most gracious men I've ever met."
As a young adult, Peterson joined the Army and served as a peace time soldier. It was there he studied and learned to repel out of helicopters. "The military was difficult. But it taught me a lot of important lessons," he says.
On his first day out of the military, Peterson signed up to work as a security officer and he's been protecting people for over 30 years now. He knows first-hand how important safety personal can be---as a Hurricane Katrina survivor, he spent much of the storm helping loved ones get to high ground in New Orleans before he was evacuated himself. It was from there he made his way to San Diego, where he currently lives with his partner and young daughter.
Peterson describes San Diego as a pretty coastal town, close to the beaches and mountains. "Folks don't talk to each other in public here like they do in the South, so I try to bring a little charm to my interactions."
If you haven 't been to San Diego, it's an expensive area to live. For Officer Peterson, he says it's hard to pay rent on the $11.50 per hour the company pays him.
"In the 80s, I was part of a strong security officer union. Our pay was great and my rent was $500.Today, I barely make more than I what I was paid in 1985, but prices have gone up. I pay $2,400 in rent for my family. I'm struggling to make it all work out," he says.
The only way Officer Peterson can get by is to work 60 hours or more, every week. But that comes at a cost.
"I give up time with my family and I barely see my 8-year-old. She's a happy artistic kid and I miss spending time with her," he says.
In his 50s today, Peterson says he can't afford to set aside money for his retirement and believes many officers are in the same boat. "I think security companies need to pay $15 per hour, more if you patrol dangerous sites," he says. "In my time, I've had to deal with a lot of emergencies. I've had to perform CPR. The person ended up dying. You can't shower that off, you take it to heart. I've also had two suicides on site. You have to act fast and contact emergency services and secure the area. It's a hard job," he says.
Right now, Officer Peterson is organizing a union with his co-workers. "I worked as a union security officer. I know the difference. With the union, I had job security. I had protection. I had good pay. Without, the companies won't back you if it's not convenient for them," he says.
Peterson believes it takes a certain type of person to do security, as well as the proper training. He believes if the companies paid better, it would help lower the turnover and keep good officers on the job.