He was ready to go anywhere in the world—because Valentino Nazarino didn't have a choice where he landed. He was a child refugee. His country—Sudan, now South Sudan--was in chaos. His mother was shot and killed in front of him. He had to escape the violence.
"I'm a survivor. I came here alone without any family. I landed in San Diego and got a job right away to support myself," he says. "It was hard. Really hard."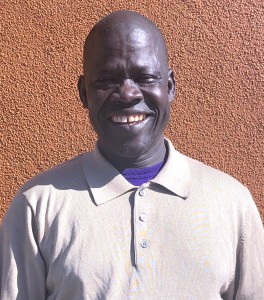 Nazarino is a security officer, protecting people and property in his community for the last 16 years. "I was studying to be a social worker, but September 11th happened. I knew I wanted to help, to take care of human beings. I switched career tracks immediately and started work as a security officer," he says.
To be an officer is a great responsibility to Nazarino—he says one needs to be vigilant at all times to ensure safety, confidence and security in the people you protect.
Even though he loves his work and takes great pride in it, he says there needs to be big changes in the industry. To help with that, he is organizing a union with his co-workers. "I want to make sure companies don't mistreat officers. I have faced discrimination based on the color of my skin. It wasn't fair. I don't want others to go through that alone," he says.
He wants to better the pay for security officers as well. "I have to live simply on what the security companies pay us. I have to plan very carefully to survive on my hourly wage. I go without, buy used everything. It's tough to build my self-esteem," he says.
He is all in to build his union and make security the best job it can be.
"The union means protection to me. To fight discrimination and work towards better conditions and clear guidelines and promotions for officers," he says. "When we get together, we are stronger. No matter what religion, we are all part of humanity. We need to respect each other."