Maria Pfende wants to set an example. She has two boys to raise and wanting them to excel in the classroom is her top priority. So, on top of full time jobs as a security officer and mother, she enrolled in college classes to get her BA in Criminal Justice.
Pfende takes the job very seriously. "This profession is a big responsibility. Keeping people safe, keeping their property safe, you have a great role to play," she says.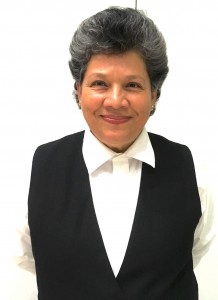 Pfende lives in San Diego, California. Originally born and raised in Mexico, she became a US Citizen in 2009.  "I love San Diego. I want people to know it is such a beautiful city. But, it's very expensive too—transportation, food, clothes, everything," she says.
It's tough to raise a family on what her security company pays her—it's a struggle.
She says she can't afford the healthcare plan they offer for her and her two children. And she wants to see the industry do a better job training guards. "I've seen co-workers go through bad situations because they didn't know how to defend themselves and weren't trained on how to deal with certain incidents," she says.
She is joining a union right now to make sure she does her part to make things better.
"Today you might have a job, but tomorrow, maybe not. When we win our union, we will have job security for all of us. We will have a fair process to handle things and make our dreams come true," Pfende says.
For International Women's Day, she wants to tell as many female officers out there to keep studying and furthering their education. "Promotions are hard to come by for women in our industry. Sometimes they don't support us because of our gender. But we need to keep going. We need to change this," she says.