This week in Silicon Valley, union security officers and their supporters rallied at the steps of the Fairmont Hotel to raise awareness regarding the effects of low-road contractors like First Security Services (FSS).
The Fairmont Hotel is a luxury high-rise resort centered near San Jose's Museum of Art. First Security Services currently holds the contract to guard the location.
At this week's action, security officers called on First Security to stop engaging in what employees believe is wage theft and retaliation when officers try to speak out to resolve problems with FSS management.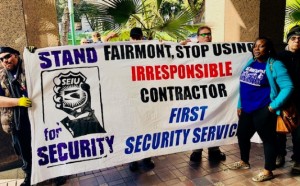 You may have heard of First Security Services as they have been under fire for actions including alleged wage theft abuses stemming from a 2015 class action settlement. This case involved more than 2,400 current and former security officers who asserted wage theft and that First Security did not provide them with the required meal and rest breaks. First Security Services agreed to settle these claims for $600,000.
In addition, within the last four years at least six security officers have filed complaints alleging gender, race, ethnicity or disability discrimination with the California Department of Fair Employment and Housing against First Security / First Alarm.
"I'm really glad I was part of this action. I just want to go to work, make an honest living and be the best security officer I can be," said FSS Officer and rally-attendee Kiesha Mcknight. "I hope sharing my experience with First Security Services helps another officer out there, to know they are not alone and we are doing something about this company."
More than 3,000 security officers in Silicon Valley recently won their union and are in the midst of fighting for a good contract--better pay, health benefits and respect at work. Today's action expressed the need to raise security standards in the area and avoid low-road companies—like FSS—who only erode the hard work to improve working conditions.
The action was attended by security officers and supporters--including union janitors and the South Bay Labor Council.
Of note, in 2016, under SEIU's Responsible Contractor Program, First Security was downgraded to RED—the lowest rating possible—indicating the company failed to prioritize officer safety, follow responsible practices such as paying at or above the prevailing wage scale, and more.
Read First Security / First Alarm Responsible Contractor Guide Downgrade Letter 2016 here.