This week hundreds of security officers and community supporters rallied in front of University Circle, a premier office park protected by low-road contractor First Security Services (AKA First Alarm Security and Patrol).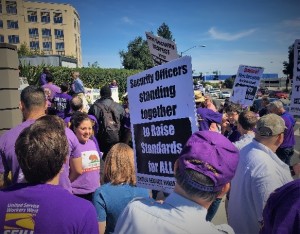 The march called on First Security to stop engaging in what officers believe is wage theft and retaliation when officers try to bring up concerns to management. University Circle is home to many of the leading tech companies in the area, including Amazon.
In California, First Security Services has been under intense scrutiny for their actions including alleged wage theft violations stemming from a January 2015 class action settlement. This involved over 2,400 current and former security officers alleging wage theft and not providing required meal and rest breaks.
First Security agreed to settle these claims for $600,000. And there is more.
In the last four years, at least six security officers have filed complaints alleging disability, race, gender or ethnicity discrimination with the California Department of Fair Employment and Housing against First Alarm/First Security. And in 2014, a security officer filed a lawsuit alleging sexual harassment and retaliation against First Alarm/First Security and another officer that worked alongside her.
In 2016, under SEIU's Responsible Contractor Program, First Security was downgraded to RED—the lowest possible rating—indicating the company has failed to follow responsible practices including paying at or above the prevailing wage scale for the area, prioritizing officer safety, and more.
You can find the letter here — First Alarm First Security RCP Designation Letter June 2016
Also in attendance at this week's action were security officers who are members of SEIU United Service Workers West (USWW)—the union representing 3,000 security officers in Silicon Valley who are bargaining their contract right now in hopes of raising standards and improving working conditions.
"We stand in solidarity with First Security officers! It's important to raise standards for ALL officers." -- Security Officer and Union Member Elizabeth Valdivia.