This week a delegation of security officers and supporters delivered a strongly worded letter from Washington's energetic labor community to Amazon's headquarters in downtown Seattle.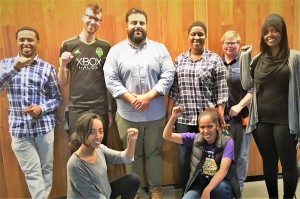 The letter, addressed to Amazon CEO Jeff Bezos, highlights labor's rising concerns over the security contractor hired to protect Amazon's campus.
Security Industry Specialists, a boutique security company based in California and hired by Amazon to protect its property, is under intense scrutiny for its treatment of more than 800 security officers.
To support these officers, click here to send an email to Amazon and SIS.
The concerned letter is signed by major labor organizations representing over 300,000 workers across the state including Washington State Labor Council, Martin Luther King County Labor Council, Northwest Washington Central Labor Council, American Federation of Teachers Washington, AFL CIO, Teamsters 117, UFCW 21, SEIU 6 and more.
Regarding SIS, the letter states: We have heard chilling reports of unfair work policies, few or no raises in four years, favoritism, and, most concerning, unjust treatment of Muslim security officers and alleged retaliation against officers who speak up to make workplace improvements.
The letter continues: We find this behavior, and its frequency, deeply troubling. The freedom to form a union and speak out against injustice is the backbone of a strong society and workplace.
The delegation asked to speak with CEO Bezos or a member from the executive team to deliver the message. The group was asked to wait, and told someone from Amazon management was coming, but not given information as to who or when they would come to receive the letter.
As time passed, six supervisors from Security Industry Specialists (SIS) gathered near the supporters and appeared to watch the group as they waited.
After more than an hour, again with no word on who or when someone from Amazon was planning to meet with the group, the supporters left the letter with reception.
"We were here today with the support of labor organizations calling on Amazon to be a better employer and hold their contractors accountable," said former SIS officer Betiel Desta.  **"**We came here respectfully to have a conversation and we were made to wait for over an hour. During this, SIS supervisors gathered to keep an eye on us, even though we came in peace. No one came to talk to us. It means Amazon does not respect us as workers or the issues we're here to present."
Another member of the delegation spoke up, "Tech Solidarity Seattle is supporting these security officers because we believe all workers deserve respect and fair treatment in the workplace," said Jeffrey Atkinson, a representative of Tech Solidarity. "Because of the alleged abuses we've heard reported from these SIS workers, we've created a letter for tech workers to sign on to demand Amazon hold their contractors accountable for a fair and equitable workplace, just as labor leaders have spoken up in the letter we're delivering today."
As the supporters left, they made sure to echo the contents of the letter: Today we call on you to hold Security Industry Specialists accountable, create a fair path for security officers to form a union, and immediately take steps to ensure no worker faces any form of retaliation.
The labor organizations asked Amazon to respond within five business days.