Ever since he can remember, Abraham Gandara has wanted to keep people safe and secure.
When he was young, he thought about police work. He followed those dreams and got certified in a homeland security program before joining the security team.
And today he serves as a proud bike patrol officer in San Diego.
"I love being a security officer. People see the uniform and they respect you. I'm a local person, so when I'm out on patrol, people know me," he says.
It's a tough job, one that comes with risks.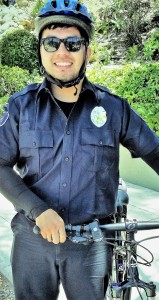 "When you're out protecting folks, you have to deal with threats. We have a responsibility to handle whatever comes our way," he says. You can't see something and look in the other direction."
Despite all the hard work and dedication, officers aren't always given the training and options to deal with the situations they are put in.
"Some officers only get 8 hours of training. It's not enough to deal with real life circumstances out there," Abraham says. "I went to school for 8 months, and I'm still learning."
In addition, officers don't always have the proper working equipment to deal with the demands of the job.
And many are left struggling to make ends meet on the wages paid by the security companies.
"For the important work we do, I can only describe the pay in the industry as awful," he says. "If I didn't have the option to live with my parents, I don't know where I'd be."
Abraham says his company offers healthcare, but that it costs money. And he can't afford that right now.
"If we were paid better, I could pay for groceries and my cell phone bill. I could even get insurance and maybe save some money. But I can't prepare for anything on what we make, "he says.
To fix this, Abraham is working with more than 1,000 security officers in San Diego who are looking to make improvements on the job by forming a union.
"I'm hoping we improve the training and pay when we go union," he says. "When you have a union, you have back up. You work together to fix things. And management has to communicate, they have to talk to you."
He says he loves the work and wants to continue serving as an officer for as long as he can. "Security isn't your average job. It's important. And everyone deserves to be safe."