Memorial Day is a day to remember and honor those who served. Let's support those still serving.
Take a second to support Officer Ball and get her back to work immediately.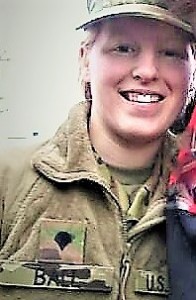 Meet security officer Andrea Ball, a proud U.S.Army veteran. She re-enlisted recently for combat duty where she will serve our country on the frontlines for the next six years.
Officer Ball is a security officer who protects the people and property right here on Amazon's campus.
She works alongside 800 security officers for Security Industry Specialists (SIS), the contractor hired by Amazon to guard the tech giant.
In the Army, she learned to put the team first and to always provide leadership—something she says is lacking in her workplace.
Ball says many security officers who work for SIS feel they experience mistreatment, favoritism, arbitrary work policies, lack of raises and more.
"As a veteran, this disheartens me. The way they treat employees—females, Muslims—it's not right. I'm fighting for freedom. It's why I joined the military. We should all be treated with respect."
When Ball put in for a leave of absence to fulfill her three-day military training schedule, she alerted SIS through proper channels. When she returned from drills, she was removed from the schedule. She had to go to human resources and open an investigation.
She was put back to work, but says these problems keep happening.
And just this week, Officer Ball reported that SIS changed her schedule to another shift without her consent.
"I want Amazon to know their contractor (SIS) treats us like second-class citizens. They switched my shift without my consent—I told them I couldn't work that schedule with my family and military commitments. And then they asked me to resign."
Despite trying to work this out with her employer, Officer Ball says that SIS asked her to voluntarily resign.
"We need fairness. We need protection. And we need these problems solved."
SIS security officers are forming their union right now and fighting for real and permanent ways to solve workplace issues; including fighting for cost-of-living raises, respect, fair workplace policies and more.
Take a second to support Officer Ball and tell Amazon and SIS to put her back to work immediately.