Maria Ortega is a long-time security officer in San Diego.
Before she started her career protecting people and property, she was married and working at a recycling center. There she would interact with security officers every day at work.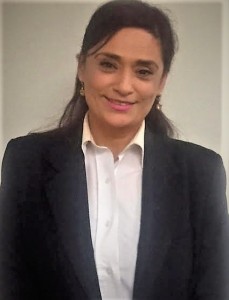 "I would see their uniforms each morning and they looked so professional and sure of themselves," she says.
At the time, Maria was going through a lot. She was a victim of domestic violence, and after years, was able to leave her husband.
"I thought if I could get a job as an officer, if he could see me in uniform, that maybe he would be scared and leave me alone," she says.
And that's exactly what she did.
Thirteen years later she is still protecting people. "I love helping folks out, it's what makes the job for me," she says.
Maria has two daughters. And as a single mom, it was tough to get by on an officers salary.
"Its hard work and we just don't get paid enough," she says. "San Diego is expensive. I live with my brother right now and if it weren't for him, I would have to live in a shelter."
The work can be risky too. While on the job she was asked to remove a person from the plaza she protected, only to find out later he was a fugitive that was described as 'very dangerous'. He became verbally aggressive and agitated towards Maria, but luckily, nothing else happened.
There are other workplace issues as well. Many security officers don't get real meal-breaks during their shift, and end up eating while on duty. And if you need to take a day off to handle anything, you are responsible for finding your own replacement. This makes it hard to get the time you need to take care of yourself.
This happened to Maria recently. Her Dad was hospitalized and Maria tried to take a day off to get her father to his medical appointments. The scheduling department gave her a hard time and wanted her to use her personal time to call officers and find someone to cover. She ended up getting the day off, but had to pick up an extra shift to make up for it.
On top of that, it's hard to afford any type of healthcare along with utilities, groceries and school supplies for her kids. "I used to have healthcare, but honesty, I can't afford the $42 a month on what we get paid, so I go without," she says.
"I love this work, I really do. It changed my life," she says. "But things need to improve."
And she is helping to make that happen.
Right now Maria is working with over 1,000 security officers in San Diego to form their union and win pay raises, affordable healthcare and more.
"It's better to have a union and support each other. You can't solve all of these problems alone. I'm going to work with my co-workers and we're going to change things for the better," she says.