We all know security is a hard job that takes courage.
It takes courage to stand up for yourself and your co-workers when you see unfair treatment going on at the workplace, too.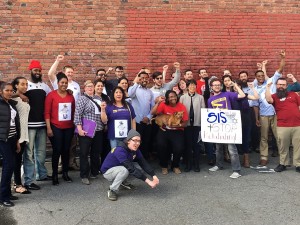 This week, two security officers employed by contractor Security Industry Specialists (SIS) and assigned to Amazon's tech campus in Seattle were removed from their work schedules following a May Day press conference in which the officers spoke out against unfair working conditions.
Officers Abdinasir Elmi and Betiel Desta spoke out against lack of pay raises, favoritism, unfair religious practices and disrespect at SIS, demanding Amazon hold its security contractor responsible for its treatment of employees. Take a second and tell Amazon to hold SIS accountable.
Immediately following on May 2, each officer was removed from their work schedule.
Officers Elmi and Desta, along with labor, community, tech and religious supporters, formed a delegation to confront SIS at their offices on Wednesday May 3, requesting a meeting with SIS CFO Tom Seltz, and delivering a letter signed by a coalition of supporters demanding the workers get their hours back and an end to what the officers believe is retaliation. Read letter here. If your local or national organization, mosque, church or synagogue would like to sign on to letter, contact us at sam.finkelstein@seiu.org.
While CFO Seltz refused to meet with his workers, the delegation was partially successful in that Officer Desta was returned to the schedule at 2 days per week. Officer Desta was hired to work full time and believes she is being discriminated against for joining together with her co-workers to demand better working conditions.
Both Officer Elmi and Desta have filed charges against SIS asking the federal government to investigate whether their rights were violated.
According to Officer Elmi, SIS now says they would return him to work if he provides a doctors' note for 3 days he was sick in November of 2016.
Seattle ordnance clearly states that doctor's notes are not required unless you miss more than 3 days.
SIS has previously entered into a settlement with the city of Seattle for violating this very provision of city law. Furthermore, Officer Elmi feels the timing of the request for documentation is an example of what he believes is retaliation.
Seattle City Council-member Kshama Sawant has called for an investigation into SIS in a letter to the Office of Labor Standards. Noting that "SIS has become a chronic violator of workers' rights," Sawant calls on the OLS to investigate SIS's retaliation against workers and adherence to labor standards, as well as to do what it can "to defend the rights of Elmi and Desta."