For the last 24 years, Jesus Garcia has spent his nights making the rounds and checking in on his co-workers. He is a janitorial foreman who cleans one of the most successful tech companies in the world—Amazon headquarters in downtown Seattle.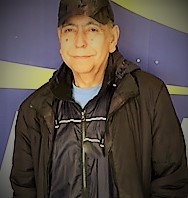 "It's a hard job what we do. Hard physically," he says describing the work. "You are constantly moving—dusting, mopping, taking out the garbage. It wears down your back and your legs."
While working at Amazon, Garcia has belonged to the union, SEIU6, for more than 20 years. Decades ago he was part of the historic Justice for Janitors campaign—an effort to improve working conditions for cleaners nationwide.
"Because we have a strong union, I get paid $18.60 an hour and have 100% employer-paid family healthcare. We also have a short term disability program for janitors—if you get sick or injured, you can get up to 26 weeks paid-leave," he says.
However, every day he works side by side with non-union security officers who protect the tech giant. Like the outsourced cleaning service—Garcia is directly employed by ABM Industries, a janitorial service company--the security work at Amazon is contracted out as well. Which means the 800 non-union officers guarding Amazon's campus are directly employed by a company called Security Industry Specialists (SIS).
Garcia has heard about the SIS officers' struggles--stagnant wages, favoritism, and most recently, allegations of unfair treatment around race and religious practices. "If they were union like us, they would have job protections. They could fix all these problems. With every member in our union we grow stronger and it helps us fight for our rights," he says.
SIS officers say they haven't received a pay increase in more than four years. They recently presented SIS management with a petition calling for wage increases signed by over 300 guards. In addition, they contacted both SIS and Amazon about creating a fair process for workers to join the union.
This was a direct response to a 2015 federal investigation where SIS settled allegations that it interfered with these same officers' rights to form a union at Amazon HQ. In addition, SIS settled charges with the city of Seattle over complaints of violating the city's sick time law at the tech campus. To date, neither SIS nor Amazon has responded.
This worries Garcia. The more service workers who remain non-union--and plagued by stagnant pay and little to no job security--the harder it is for union workers to raise wages and benefits. "We need to make sure we protect our hard fought gains," he says.
He's happy the security workers are taking action. "Those officers are standing up for themselves and I know they'll win their union," he says.
As an active member in SEIU6, Garcia looks forward to SIS officers joining them. "We have to stay on top of things. Companies don't want to give you one more penny. But because we are a strong union, we won guaranteed pay raises, every single year. The SIS officers deserve that too," he says.