Last week dozens of security officers, union janitors and supporters paid a visit to Amazon headquarters in Seattle demanding the tech giant hold the companies they contract with accountable.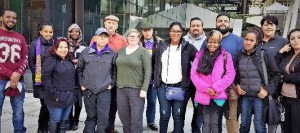 Like the outsourced janitorial service, the security work at Amazon is contracted out. Which means the 800 non-union security officers guarding the tech giant's headquarters are directly employed by a company called Security Industry Specialists (SIS).
SIS has come under fire for its treatment of workers--including a 2015 federal investigation where SIS settled allegations that it interfered with officers' rights to form a union at Amazon HQ and settled charges with the city of Seattle over complaints of violating the city's sick time law at the tech campus.
In addition, SIS officers say they have not seen a pay raise in more than four years and face substandard working conditions including favoritism, and most recently, unfair treatment around race and religious practices.
The officers explained that while Amazon employs many immigrants, not all are treated equally. Many point out that the immigrants who are tech workers at Amazon are treated with dignity and respect—while the immigrants who are contracted service workers are left struggling with the basics.
Officers and supporters have reached out to SIS and Amazon to address these concerns--through office visits, emails and a petition calling for wage increases and a fair process to unionize signed by over 300 guards.
Most recently the group visited the office of Amazon Vice President of Global Real Estate and Facilities, John Schoettler, where they waited more than an hour. No one from Amazon addressed the group but managers for Security Industry Specialists (SIS) paid a visit and said they were there to represent the Amazon VP.
"We told them we have approached SIS countless times. And they never address our concerns. We are running out of options. So now we want to speak to Amazon management directly. We want justice," said Essag Hassan, SIS Officer.
Nearing 5pm the receptionist explained that VP Schottler, and all of his representatives, were gone for the day and unable to speak to the group.
"Obviously Amazon is not interested in hearing from the workers who keep their facilities safe and secure, so we will leave and we will come back larger and louder," said former SIS officer Ismahan Ismail.
One of the supporters, a union janitor who cleans Amazon headquarters said, "I work at Amazon and I'm union. Amazon contracts with these janitorial and security companies. They have the power to step in and resolve these issues. And they should," Jesus Garcia, a union cleaner employed by ABM.
"The only way to have a voice loud enough to be heard by a company like Amazon is to have a union. And that's what this is all about," said Lovy Mnisi, an SIS officer.
Next up, SIS officers are preparing for a Good Jobs for Amazon Service Workers rally to be held at 2pm on March 31st.