Seven Washington has seen a lot. Born and raised in Seattle, Washington, he graduated high school and immediately joined the Army. "I wanted to see the world and get trained on important skills," he says. During 15 years of active duty he was deployed to Iraq three times and Afghanistan as well.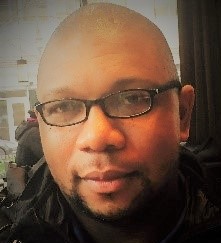 Despite his years of training and service to this country, Seven returned home to a security job that doesn't have guaranteed wage increases or job security. In fact, it barely pays above minimum wage--which doesn't go far in one of the most expensive cities in the country.
For the last year and a half, Seven has worked for a company called Security Industry Specialists (SIS), protecting one of the most successful tech companies in the world—Amazon. "Security means having someone's back. Building confidence and trust with people. I don't think a lot of civilians understand how important that bond really is," he says.
During war-time his role was convoy security—ensuring roadways were safe and secure for trucks filled with supplies. It was a tough job and he was worried all the time--for his fellow soldiers and the people working around him. "Overall the Army was a great experience. Yes, it was hard to be away from my family, but I got through it and I learned a lot about myself and other cultures," he says.
With all of his combat training and experience, he still needs to work as much over-time as he can to make ends meet. "I'm not living a lavish lifestyle. But it's really expensive to live in Seattle, and I've got a family and four kids to care for," he says.
Officers employed by SIS claim they have not seen pay raises in more than four years. They recently presented SIS with a petition signed by over 300 guards calling for pay increases and a fair process to form a union with SEIU6. This was a direct response to a 2015 federal investigation where SIS settled allegations that it interfered with these same officers' rights to form a union at Amazon HQ. In addition, SIS settled charges with the city of Seattle over complaints of violating the city's sick time law at the tech campus.
Seven believes forming a union with SEIU6, part of 50,000 union security officers nation-wide, would be a good move. "Our wages aren't bad, but I think forming a union and getting the support from other officers and pushing for yearly raise increases, well, that's a good thing for everyone," he says.
"I'm thankful for everything I have in my life—my partner, my children. I don't expect something for nothing. Being in the military humbled me," Seven says. "I see my role in security as a natural extension of what I did in the Army. I know what I do is important work. And I want all officers to get the respect they deserve."