Hundreds of Muslim security employees and supporters joined together for massive and emotionally powerful "Pray-In" in front of Amazon's sprawling campus in Seattle.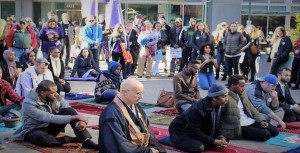 Although Amazon strongly condemned President Trump's illegal Muslim immigration ban and also accommodates the prayer needs of high-paid tech employees, participants called on the company to address alleged incidents of unfair treatment over religion and to create a fair prayer policy that applies equally to everyone working on the campus--including all subcontracted service workers and security officers employed by Security Industry Specialists (SIS).
Will you take a second to send a message – tell Amazon, and the companies with which they contract, they should create a fair prayer policy and apply it equally for all workers.
"My name is Essag, and after I requested prayer space to use on work-breaks, I was put under a secret 'investigation' by Amazon security contractor, Security Industry Specialists (SIS). A few weeks later I was terminated without any explanation. I had a spotless work record. This was one of the reasons I tried to form a union at work. Please take a second to send Amazon and SIS a message that this is unfair."
Everyone should be treated fairly at work -- take a second to support Muslim security workers.
Watch footage and interviews of Pray-In here.
"My name is Ismahan. I proudly served in the U.S. Armed forces because I believe in equality and protecting America. It's why I joined Amazon's security team as a Security Risk Analyst**.** I used to be able pray on my work-breaks but it all changed when a new manger came to the department. He kept pulling me into meetings to ask about my prayers and not discuss my work duties. I felt he was treating me differently and it was stressful. After making a report to upper management, my prayer materials were moved and even stepped on. I asked HR for the policy around prayer but I was told no policy existed--"it's a grey area." I went through all the proper channels to get things resolved—HR, upper management, Ethics--but nothing worked. Other Muslim employees in the department, who were under different management, were not experiencing these issues. I tried transferring but it was denied. I finally went on non-paid medical leave because of the stress."
See coverage in the Seattle Globalist, Seattle PI, South Seattle Emerald and on KIRO, KOMO, and KATU. View and share the Pray in Video addressing religious freedom and good jobs for security officers in Seattle.