On Friday February 17th, hundreds of Muslim security employees, tech workers, interfaith groups, labor unions and supporters joined together for a massive PRAY-IN at the tech giant's sprawling campus to encourage Amazon, and the companies with which they contract, to create a fair prayer policy for its diverse workforce.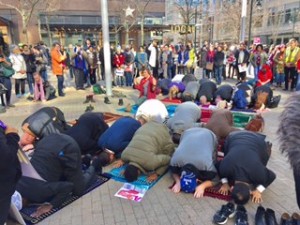 "I'm not just here for me today. I'm here for all Muslim security workers. I'm here for all workers of any religion. When you ask for a space to pray on your work break, that request should be treated with respect. You shouldn't be singled out and treated differently, like I felt I was. Several weeks after I asked for this, I was fired by Security Industry Specialists (SIS), the security contractor at Amazon, and not been given a reason why," said SIS officer Essag Hassan. "I don't want any family to go through the stress mine went through. We had a miscarriage and I'm worried about how to pay our bills. It's not right."
It's no secret that Amazon came out against President Trump's ban on immigration from predominantly Muslim-majority nations. And in a bold move to publically stake the company's values, they joined Washington State's legal case to protect the rights of immigrants and refugees. They also directly addressed employees assuring them "from the very beginning, Amazon has been committed to equal rights, tolerance and diversity – and we always will be."
But not everyone who works at the tech giant, or for the companies with which they contract, felt that promise.
Muslim security workers who protect the people and property at Amazon say they have experienced unfair treatment, including termination, after making requests for prayer space to use during work breaks. They mentioned hearing that some tech workers do get space to pray, but this is not applied equally to the service workers protecting the campus.
Ismahan Ismail, a Muslim security worker directly employed by Amazon, felt singled out for her religion. "I'm a proud U.S. citizen. I came to this country as a refugee from Somalia when I was four years old. I joined the Navy because I believe in fairness and building this country up. It's why I do security now. But when I asked management for a prayer space to use on my work breaks, I felt I was treated unfairly. My prayer materials were moved and stepped on. I tried to go through the proper channels to fix this. But I couldn't get anything resolved," she said. "I hear that some tech workers have space to pray—and I think that's great. I just want this to apply to everyone here."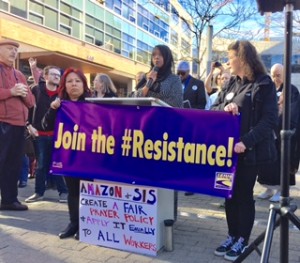 Today's PRAY-IN addressed these incidents and encouraged Amazon, and the companies with which they contract, to create a fair prayer policy for ALL workers, regardless of religion. Security Industry Specialists (SIS) is a security company tasked with guarding the tech campus with more than 800 security officers. Supporters called on the tech leader to stick to their values and ensure that they and SIS respect workers' rights.
The PRAY-IN comes on the heels of aggressive action taken by tech workers across the nation standing up to the current administration's immigration policies. Since December, thousands of employees who work for tech companies including Amazon, Google, Facebook, LinkedIn, Microsoft, Salesforce and dozens of smaller companies have signed petitions committing not to participate in creating a Muslim registry. In the last few weeks thousands of employees at Google and Comcast have walked off the job in protest and thousands pledge to do the same in Silicon Valley next month. The PRAY-IN added to the growing chorus that tech companies need to do more in the current political climate.
TELL AMAZON, AND THE COMPANIES THEY CONTRACT WITH, TO CREATE A FAIR PRAYER POLICY AND FAIR PATH TO JOIN A UNION.
Supporters attending the PRAY-IN included Seattle Councilmember Kshama Sawant, Security Industry Specialists (SIS) Organizing Committee, Interfaith Economic Justice Coalition, University of Washington Somali Student Association, Working Washington, Faith Action Network, Strike for Democracy, Christ Episcopal Church, Kadima Reconstructionist Community, Socialist Alternative, Raging Grannies, Uplift Dawah Global, Transit Riders Union, Local Labor Unions including SEIU6, SEIU 1199NW, SEIU 925, SEIU 775, UNITEHERE Local 8, UFCW Local 21, and Teamsters 117.