Pam Louie is a security officer born and raised in Portland, Oregon. It's where her mom grew up and where her grandparents settled when they emigrated from China. "My grandparents owned a grocery store and worked hard to raise eleven children here," she says. "They didn't have it easy." One of the children was kidnapped at a young age and it was a heartbreak for the family. And Oregon was not a diverse city in the 1930's, "everyone had their place and position, if you know what I mean," Pam says.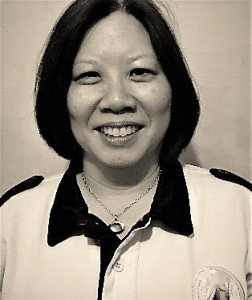 Pam continues to live in Portland with her mother, three brothers, and her partner. "We are a pretty independent family, but we all get along," she says.
In 2008 Pam started her career as a security officer. She is assigned to bike patrol. "I hate to be sitting or idle. I love outside duty because I'm meeting new people and in changing situations," she says.
It does come with some rough moments. "I've been yelled at, called racial remarks, you name it. Some people just don't have respect for your role as an officer even though you are trying to keep them safe," she says.
In her eight years, Pam has worked both as a non-union security officer and a union one. "The difference is huge," Pam says. "At non-union sites we were treated poorly. There was no respect or job security. There were little benefits and training and the turnover was through the roof," she says.
While she was non-union Pam was moved to different locations and her wages went up and down. "It was hard to budget because you didn't know when they would move you and if you were going to lose pay as a result," she says.
Now Pam is part of a union, SEIU Local 49. "I make more than $13 an hour and have benefits," she says. "The most important gain as a union officer is that I have job protection."
And for the last several years Pam has been active in her union. "I'm a shop steward and I work with my fellow offices to make sure management does things right. And if they don't, we fix them," she says.
Pam was just elected to the security bargaining committee to help negotiate the second contract for Portland officers. She looks forward to fighting for all officers to make $15 an hour, have more affordable health insurance and improvements in equipment for safety.
"I hope all officers out there stick together and form a union. We all need respect and protections while we work. It helps," she says.