David had a full scholarship to play football for a division one school. He played cornerback and can still remember his best play—a one-handed catch for an interception. And yes, they went on to win that game.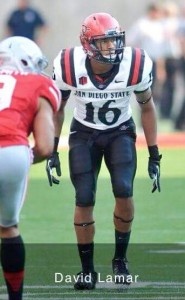 He's been a top athlete all his life, but today, at 25 years old, he's had to give up playing sports--he can't afford it.
David is a security officer in San Diego, where he was born and raised.  He works full time and takes all the overtime hours he can get. "Even with all those hours, it's hard for me to pay my car note, phone bill, and make my rent," David says.
"We do a lot of work to keep our sites safe. And we don't get paid what we are worth," he says. And on payday, sometimes the checks are shorted and officers have to fight to get that corrected. "We need better pay, and we need to be paid correctly. Every week," he adds.
He misses playing sports and being an athlete. But what he wants more than anything is to be respected for the work he does keeping people and property safe and secure. "Security officers do a lot. The companies need to pay us a wage we can live on, not just getting by. This is about respect," David says.