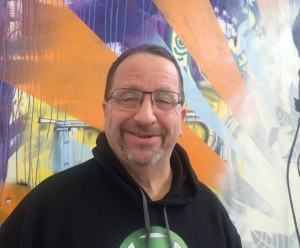 In the latest victory for working people in the Fight for $15, security officers fought together in their union to raise wages for 2,000 Minnesota families. The officers ratified a new contract that will bring every security officer in SEIU Local 26 up to at least $15 in two years.
"Going from $10 to $15 will be a huge step for me," said security officer Dean Walters, who fought alongside fellow officers on his bargaining committee.
Dean also says the power of his union extends beyond wages. For example, some companies used to cash out the security officers' vacation time at the end of the year, rather than allowing them to use it.
"The last time I went on vacation was almost ten years ago, when Bonnie and I had our 30th wedding anniversary. We'll have our 40th this fall."
Dan and his co-workers won the right to use their vacation time. That victory, along with his upcoming raises, have him dreaming of travel again.
"Now that gas is cheap, I'd like to hit the open road and never look back."
Besides raising wages, Minnesota security officers won increased access to paid sick time, healthcare, vacation, stability and safe scheduling for themselves and their families.
Now Dean is educating young adults entering the work force about unions. He sees his daughter and her husband struggling to support their two children while living paycheck to paycheck, and wants to see things change.
"Our union means we have strength in numbers. We're doing the work. We deserve to live, not just survive."
See more from the Star Tribune, CBS Minnesota, and Workday Minnesota.