This Veteran's Day, we honor and supports our vets by lifting their voices. It's not enough that we say 'thank you.' We must ensure our U.S. veterans return home to good jobs, and can provide fully for the families and communities they worked so hard to protect.
Hear from U.S. Marine Corps Veteran Robert Edwards here: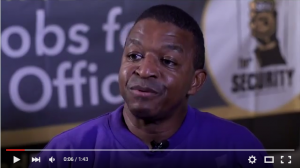 "As a Marine, I took care of my country. As a security officer, I take care of my client and its guests. I fight for $15 and union rights so that we can all take care of our families." -- Robert Edwards, SEIU Local 26 security officer, veteran of the U.S. Marine Corps.
Watch the video here.