[caption id="attachment_1091" align="alignleft" width="300"]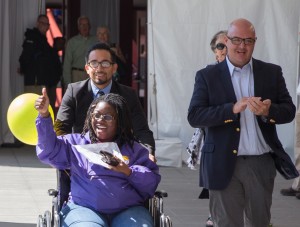 Photo by Alex Garland[/caption]
Days after Seattle City Councilmembers called for Amazon to hire a responsible security contractor, security officers joined corporate responsibility advocates, workplace diversity advocates such as the Rev. Jesse Jackson, elected leaders such as Councilmember Harrell and leaders of Seattle's movements for affordable housing and public transit inside and outside of Amazon's annual shareholder's meeting.
As Amazon plans two new office buildings in the Denny Triangle, a diverse coalition of community leaders is calling on the company to develop responsibly—and to ensure responsible employment practices at all Amazon facilities. Amazon's current security contractor, Security Industry Specialists (SIS), recently settled allegations of systemic violations of Seattle's paid sick time law, and a federal complaint alleging violations of security officers' right to stick together in a union. At the same time, Seattleites are being priced out of neighborhoods and out of the city, and struggling with overburdened roadways and public transit.
"After suffering an asthma attack on the job, SIS suspended me without pay for abandoning my post. This was a violation of Seattle's sick leave law," said former SIS security officer Tracison Casarrubias. "Shareholders have a right to know about this and any other abuses by Amazon subcontractors. That's why I supported the resolution for human rights reporting in the meeting today."
Security officers are asking Amazon to follow Silicon Valley's lead, and cut ties with SIS—the same security contractor that has lost contracts with Google, Apple and Twitter within the last year.
Last year, the Seattle Human Rights Commission and all nine members of City Council raised concerns about illegal retaliation. Councilmembers are now calling on Amazon to choose a responsible security contractor, amid questions about SIS' willingness to abide by the terms of its sick leave settlement.
Security officers gathered with community members in front of the Repertory Theatre to hold their own stakeholder's meeting.
[caption id="attachment_1090" align="aligncenter" width="630"]

Photo by Alex Garland[/caption]
"Amazon's growth is straining our region's transportation system, making congestion worse and increasing the need for more and better public transit," said  Katie Wilson, General Secretary of the Transit Riders Union (TRU). "The proposed Denny Triangle development alone includes parking for over 800 cars. Amazon has a responsibility to contribute to the taxpayer-subsidized public transit system they depend on. TRU is calling on Amazon to sponsor the new ORCA Lift program, to help keep public transit affordable for everyone." "With employers like Amazon putting pressure on our current housing stock and lowering labor standards for its service and support jobs, like security officers and janitors, the City of Seattle will never meet our Mayor's goal of creating 20,000 new affordable housing units in the next decade," said  Rebecca Saldaña, Executive Director of Puget Sound Sage. "That is why we ask Amazon to join with Puget Sound Sage and over fifty labor, community, civil rights and housing organizations in the Growing Together Coalition to support private developers contributing toward affordability with a linkage fee. We need Amazon and big private employers, property owners and developers to contribute toward community benefits and policies that address the affordability crisis they exacerbate."
See coverage of the protests from King 5, USA Today, KUOW, Seattle Weekly and The Stranger.