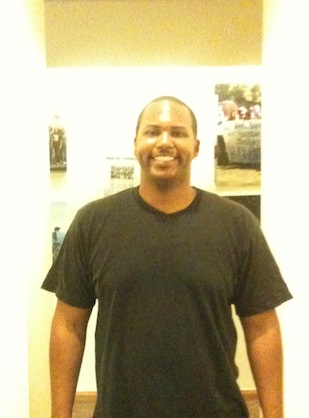 Stephen Murray is interested in making sure the economy works for hard-working people, and he's starting where he lives and works in Houston, Texas. Stephen works as a security officer at the Criminal Justice Center and Wilson Building, monitoring the front entrances and directing people who come into the buildings.
"I've been in security for 10 years. I like helping people out and dealing with people. I enjoy helping people take care of their business," Stephen says.
In spite of his passion for protecting people, Stephen makes less than $19,000 a year and has no health insurance, struggling every month to pay bills and relying on the already overburdened public health care system when he gets sick. His expertise in the field of security is hampered by what he considers poor choices by his employer, a private security contractor.
"There are a lot of things that they teach you as you go, instead of at the beginning. There's a lot of stuff they never teach you, and I'm still learning things as I go now," Stephen says.
But Stephen believes that he can make a change for the better at his work. He is working with his co-workers to form a union to raise the standards of the security industry in our local community. When officers are paid enough to make ends meet and have the training they need, they are able to do their job better. This makes all of Houston safer. Having previously worked for a unionized justice commission in New Jersey, Stephen knows the dramatic difference a union can make in one's work and life.
"Having a union will pretty much save you. I almost got fired for something that wasn't my fault, but because my union representative knew the rules and regulations, he made sure I didn't lose my job," Stephen says. "Being in a union keeps the boss honest."
Stephen believes that forming a union will not only create good jobs with benefits, but also help the entire community by raising the standards of private security in Houston and showing all people that they can make improvements if they work together.
"In order to help the community, we need to educate people and let people know that they have a voice. A lot of things have changed in this country by people working together, educating each other and knowing their rights," Stephen said.
"Our country needs to become more united and less separated by economic status."