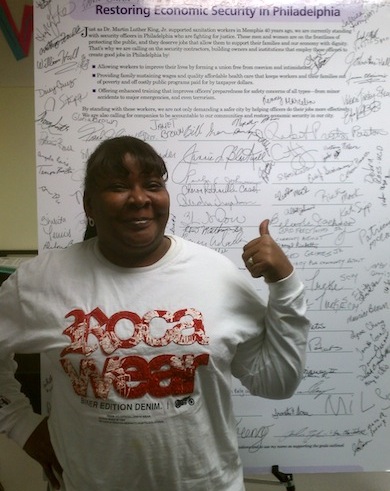 As a security officer, I protect staff, patients and visitors at Temple University Hospital in Philadelphia, Pennsylvania. For the past 8 years I've worked for the same private security company. I started out making 8 dollars an hour; and now even after 8 years I only make $10 an hour.
I am organizing with my co-workers to bring respect and accountability to my job. I feel the culture in the security industry needs to change so that management starts to value loyalty, commitment, and hard work.
This isn't just about the money, it's about respect for what I do.
I am a mother to 3 daughters and a son, and have 10 grandkids, two of which live with me. I also have a son who is going through difficulties that I have to help him with. I own a house and am struggling to make up the payments; I cannot afford to fix up the house when it needs repairs. I struggle to even get to work because the money is not enough. Debt collectors are all over me due to back payments on bills.
We work hard to protect Philadelphia. We need better wages and better training to help our own families and to help protect the public.