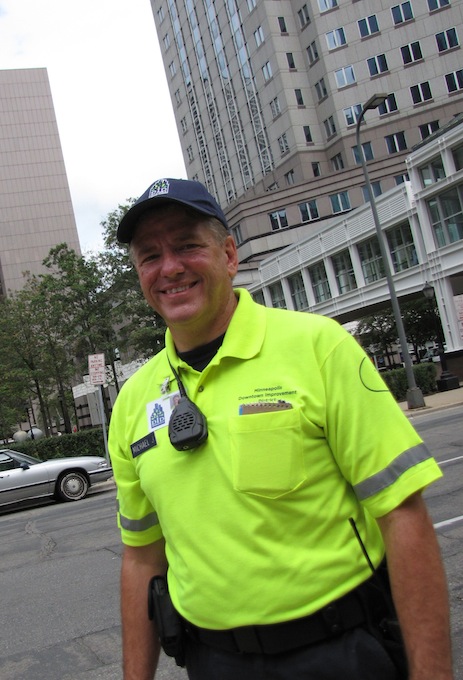 Having just won a union through a majority-sign up election, 60 of Minneapolis' Block by Block "Downtown Ambassadors" have become members of SEIU Local 26.
Like suburban security officers at seven companies who are now conducting a majority sign-up election, the Block by Block Downtown Ambassadors work for a firm that agreed to be neutral during the organizing campaign.
The workers' new contract became effective July 1. SEIU President Javier Morillo-Alicea reported that the contract "equaled or improved the standard of both our security contract and our cleaning contract." Workers with one year of service saw their pay increase from $11.50 per hour to $13.22 per hour. "Workers who got significant raises were quite happy," Morillo-Alicea noted.
Block by Block was contracted by the Downtown Improvement District to help raise the quality of life in the city.
Downtown Ambassadors, like security officers, help the public and keep people safe. These new union members pick up litter, direct visitors and provide a safer downtown. "Our mission is to make downtown a safer, cleaner environment for everybody," said Michael Jacques, St. Louis Park.
Michael clearly relishes his work as he patrols the streets of downtown Minneapolis: "You're making a positive influence in people's lives."
As a new union member, Michael also relishes the new lessons that come with power in the workplace. "Now we've got to learn to work together as a union and company," said Michael, who helped negotiate the contract and now serves as a union steward.
This fall, he will be standing with suburban security officers who are conducting a majority sign-up election.
Read more about Block by Block in an article by Steve Share at Workday Minnesota.
Photo credit: Sam Mukherjee, Minneapolis Labor Review
---
Click here to receive Twin Cities email updates from SEIU Local 26.