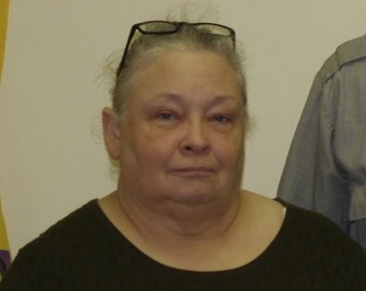 Sabra Mahrling works the second shift as a security officer at a computer company in Indianapolis. Although she has eight years of experience as a security officer, she is only paid $10.25 an hour to protect valuable assets and the people who work in the building.
Sabra is responsible for running the x-ray machine to identify and stop anyone who may pose a risk to the company. But Sabra's own health is at risk because her employer doesn't provide adequate health insurance.
"I have a lot of medical issues that are considered pre-existing conditions that they won't cover. They wouldn't pay for my BiPAP machine and without it, I could die," says Sabra. A BiPAP machine helps people with sleep apnea breathe while they sleep. Even though Sabra pays for health insurance, the insurance does not cover the care she needs to stay healthy.
Sabra learned that she reached the maximum prescription drug benefit of $1,200 a year this April when she got a bill for $300 just to pay for one month of insulin. "They aren't paying my meds. They aren't paying my doctor bills. And I have one bill from last year that's $14,000," says Sabra. With about ten different prescriptions that she takes on a monthly basis, Sabra is searching for a way to pay for her medication for the rest of the year. "I can't use the clinic because I have insurance."
What does Sabra's health insurance pay for? "Not much. It pays for some tests, but I try to avoid going to the doctor."
Sabra's finances continue to worsen because of medical bills. She has had two mini-strokes on the job--one of which occurred before her health insurance took effect. The bills are so unmanageable that Sabra has no choice but to go through bankruptcy. "I know how to budget. I don't do charge cards. My only problem is my medical bills--and I have insurance," says Sabra.
"I work hard and I'm always early. What I'd like to see is decent insurance."