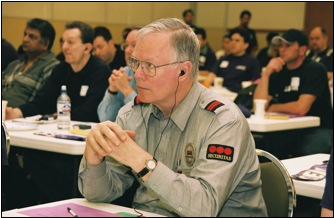 Minnesota security officer John Graham believes in mutual responsibility. Workers help the economy. The economy should help workers too.
That's not the way things are working out.
"It's the damn investment companies and banks that blew up the economy," John says. "While they benefited before, during, and after the crisis, working people are hurting."
John, an employee of Securitas, joined SEIU in 2004 and is now the most senior union security officer in Minnesota. He is taking a leading role in giving workers a voice in how individual companies--and our economy--are run.
John's accomplishments are many. This past winter he organized and chaired a meeting between security officers at a public housing facility and management that resulted in the installation of 23 space heaters in public housing lobbies to help 70 officers weather Minnesota's notoriously cold winters. He also helped his coworkers win reduced healthcare costs--from the current $40 a month to $30 a month in 2011, and $20 a month in 2012. And, of course, raises.
"We won 50 cent raises each year," John says. "That amounts to one thousand dollars a year--seven times the size of raises we used to get. It's not enough to buy a yacht and go to Europe on but it makes a big difference to me. My wife and I were able to go out on our anniversary and we even took a trip to Savannah, Georgia. It's a beautiful city, with lots of art museums and galleries--a beautiful place to sit and to walk."
Now John is applying his leadership--and his desire to promote mutual responsibility--to the big picture. By running for delegate at a precinct caucus of the Minnesota Democratic-Farmer-Labor Party, John is helping determine the direction of the country. "It's democracy," John says. "The people coming out of these caucuses go on to Governor, Senator or the U.S. House of Representatives. Now I know how it works."
---
Click here to receive Twin Cities email updates from SEIU Local 26.