To 57-year-old Chicago security officer Denise Dawson, being in SEIU means job security.
"If you don't have a union, you are what they call an 'at will' employee," Denise says. "That means management can do whatever they want whenever they want. You can lose your job for any reason."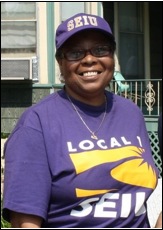 A member of SEIU Local 1 and an employee of Securitas, Denise has made a successful career in security--beating the odds in an industry that can see turnover as high as 300 percent.
Denise is a 24-year security veteran with full seniority. "Even though I've had to switch security companies and work sites, I've been able to keep my seniority all these years," Denise says.
What does keeping seniority mean for Denise? "It means that I have four weeks of paid vacation every single year," Denise says.
While in most years she likes to spread her four weeks throughout the calendar, this year she's doing something special. "This winter in Chicago has been long and hard," she says. "We're going down to Florida to check out some timeshares, do some sightseeing, and just be in the sun."
When she's not on vacation, Denise keeps herself busy. She has served as a member political organizer, which brought her to the Illinois state capital in Springfield. And in March of 2010, Denise notched a historic feather in her cap. She helped bring healthcare to 32 million Americans. "I worked to get the healthcare bill passed," Denise says. "I walked down my block and talked to families and seniors. I like to get involved. I like to talk to people."
Now Denise is setting her sights on strengthening Chicago security officers' union contract, which expires in April. While downtown officers already have healthcare with no out-of-pocket expenses and a prescription drug discount card, there is always room for improvement. "I spent six weeks asking officers throughout the city what they want in our next contract," Denise says.
Pausing to reflect on what she's been able to accomplish as a member of SEIU, Denise says, "You're missing out on a lot if you don't have a union."